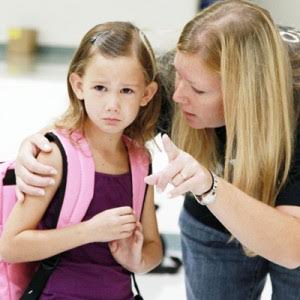 Children have the same anxiety problems as teens and adults. However, kids can have trouble understanding and expressing how they are feeling. This means parents may have to be detectives to get to the bottom of what is going on. Sometimes anxiety is obvious as in the case of a panic attack. Other times it is not so clear.
Sometimes the signs of anxiety in children are physical symptoms like stomachaches, muscle pain or fatigue. Some worries or fears are kept secret because of potential embarrassment or imagined disapproval. In children it can be expressed as angry outbursts or extreme resistance. Sometimes it looks like strange rituals or superstitious behavior.
If the symptoms cause some significant impairment in normal life, seem very persistent, are way too extreme for the circumstances or just seem strange you should consider the possibility your child may have an anxiety disorder. Without the right knowledge and right approach anxiety disorders are likely to persist into adulthood.
Symptoms can be better understood when the underlying type of anxiety is clear. Understanding the most common types of anxiety and the associated symptoms can remove some of the mystery. Below is a list of the most common anxiety problems. Click on the name for more information.
Most Common Types of Childhood Anxiety
Phobia – Phobias are the most common types of anxiety. Psychologists have organized them into five categories: Animal, Environmental, Medical, Situational and Other. Learn more >
Emetophobia – This is the fear of throwing up. This is one of the "other" phobias. However, it is so common and such a problem we have added it as a separate type of anxiety disorder. Learn more>
Separation Anxiety – It is normal for a child to not want to leave the security of a parent. Sometimes that can evoke extreme anxiety. If there is a crisis when you need to leave this could be the problem. Learn more >
Panic Attacks – Escalated symptoms of anxiety can turn into a panic attack. They are sudden and intense with symptoms of racing heart, hyperventilation, and emotional melt-downs. This can be scary for everyone. Learn more >
Generalized Anxiety Disorder – This might be the problem if your child worries all the time about different things at the same time. Typically the worries are about things that seem reasonable like performance, friendships, safety and family issues, but the worry is too intense. Learn more >
Obsessive-Compulsive Disorder -This one is the most difficult to figure out and is often misdiagnosed. It can present itself in several variations. It is characterized by preoccupation with a fear (obsession) and ritualized attempts (compulsion) to neutralize the danger. Learn more >
Social Anxiety – This is when social or performance situations evoke high anxiety. The core fear is typically embarrassment or fear of criticism. This is probably the most common anxiety problem for people of any age. Learn more >