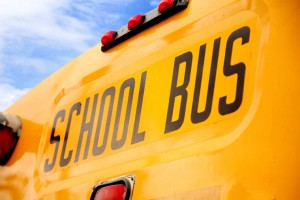 In most families and school systems a child refusing to go to school is a crisis. This is not a situation when a child says, "I'm not going," and the parents just agree. There is usually crying, panic, nausea and pleading. It might seem worse to send your child in this condition than giving in. At the same time there is pressure from the school system that your child attend. Truly a rock and a hard place for parent and child.
In this blog I am going to discuss what to do when your child has a fear of going to school and anxiety is the problem behind the resistance. The underlying anxiety disorders typically associated with this are separation anxiety, panic disorder, social phobia and emetophobia (fear of throwing up). Less frequently OCD might be a factor. Often a child with anxiety may have more than one disorder going on at the same time.
So what do you do when your child refuses to go to school? I am going to offer several steps you can take.
So what do you do when your child is refusing school? Step One
If at all possible DO NOT let your child stay home. The hard-wired biological response to most scary things is to run or fight. Staying home is avoiding, which in this situation is the equivalent of running. Please understand this: Avoiding will give immediate relief, which in turn becomes powerfully reinforced. Reinforce simply means that something is likely to be repeated. It can be more powerful than mom and dad being mad. Once you allow this, the desire to stay home will get stronger and stronger.

What everyone hopes is that a little time off will let everyone settle down and once calm returns then Mary will go back to school. I'm just telling you, that is a big gamble. That is just fine for illness, sleepless nights, and other things but almost never for anxiety disorders.
If right now it is war to get your child to school don't mention homeschool, changing schools or some other way to escape. If you do then this will become the pot of gold at the end of the rainbow for your child. If all else fails this might be an option but please don't go there if you haven't already. Even a little hint will open that door. Some parents get professionals to also say this is not an option. That can cement the "No" and parents can end the argument by saying the doctor said no.
If you continue to make your child go to school you need to be prepared for many tearful mornings. Many schools will work with a crying child until he or she can go into class. This is the hardest part of facing fear when the anxiety is high and it doesn't seem to be getting any easier even after many times of facing the fear. There are a few things to consider that could extend the time it takes for it to settle down.
First, try to be firm but as unemotional as possible. Anger can activate the same part of the nervous system as anxiety. Try to keep the morning as chaos free as possible. Have things prepared so the morning is less rushed.
Step Two
Second, try to remove any loopholes. Kids are amazing at finding these. Any subtle things like keeping the option open for not going or coming home will keep the anxiety going longer. Kids will wear you down. If there is a possibility for not going then that will keep the anxiety going.
Just a side note but the first day back from the weekend or holiday will usually be worse. If you get to avoid something then facing it again is harder. This is one more example of how avoiding makes things worse.
Step Three
The reality is that sometimes for various reasons, you can't get your child to school. Who wants to have to physically drag their child out the door? If that is the case then it is time to get to work and create a plan. Here is what I would suggest:

The first part of the plan is to contact the school. You need them to work with you and your child. Keep in mind that schools go from completely unsympathetic to very understanding and flexible. You may have to get pretty tough. I think most public schools will have to accommodate anyone with a disability. I am guessing this is a big hassle for schools so expect some resistance and try not to take it personally. There are lots of steps for this and you will have to find out from your school administrators. The end of the process is a 504 plan. It is part of the Americans with Disabilities Act if you want to research it. If at all possible include teachers, counselors and administrators in your plan.
Steps to get back in school may involve someone coming to your home, attending part of the school day, access to a counselor or nurse, and options to contact you. That is part of the reason you need to find out what is possible at your child's school.
Next take care of yourself. Do your best to not take the blame and prepare to get simplified suggestions and advice from well-meaning or judgmental observers. If you haven't had this happen to yourself or your child it is hard to understand, so many people will minimize this problem. Everyone gets to take a look at your family and it may not be compassionate. Unfortunately, it comes with the territory.
Step Four
The next part of the plan is to develop a step-by-step hierarchy to get your child back in school. You can view a sample example here. (You will need to scroll through the slides to find the hierarchy). The general principle is to create a series of steps that get harder as you go. You do each step until the anxiety for that step has substantially decreased and then move to the next. Depending on your child, your child's age, the severity of the anxiety and your resources it might take several months for the process of getting your child back in school. Adjust your expectations accordingly.
If possible and/or available you could consider getting a therapist to help your child face his or her fear and also work with the school to help your child overcome this anxiety. We offer a lot of help in the Turnaround program that you can use at home with your child or in conjunction with a counselor.