Turnaround – a Natural Way to Treat Anxiety in Kids
Turnaround is a proven, award-winning, effective audio program that will teach your child what anxiety is, how it works, and how to overcome it. Turnaround is truly an unique program because unlike other materials, Turnaround speaks directly to your child. Turnaround works best with children ages 6 – 12.
How does it help children treat anxiety?
Each day, your child will listen to a 20-25 minute "lesson" and then complete the exercises in the Turnaround Journal. There are 10 lessons in all.
The "lessons" are embedded into an adventurous camping story in which six anxious kids take a 10-day hiking trip with Dr. David, Dr. Chris, and Emily, who is a teen mentor to the kids.
In Turnaround, kids speak to kids! Fourteen child-actors and six adult-actors were hired to ensure that your child would remain interested in the material and really want to hear it!
We also added animated characters to make it even more entertaining. The result is a clever blend of proven treatment methods inside an exciting story that your child will love, guaranteed or your money back!
Listen to this audio clip for a more detailed explanation of how the Turnaround anxiety program works.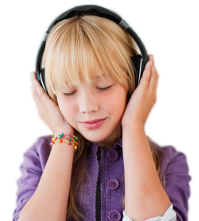 How can I buy Turnaround?
Turnaround comes in a variety formats. The most common formats are shown below. For more program types visit our on-line shop.
Does it really cure anxiety in children?
Turnaround launched in April of 2010. By 2017, thousands of programs have been either shipped or downloaded worldwide. The feedback we have received from both parents and children has been beyond out wildest hopes.
Turnaround is purchased by parents all over the world! Not only do children in the USA love Turnaround, but it is also a hit in Australia, Canada, and the United Kingdom. Kits have also been shipped to families New Zealand, South Africa, Ireland. English speaking families, many in the military, have purchased Turnaround from Dubai, Malaysia, Vietnam, Singapore, Hong Kong, India, and Germany.
You can also read hundreds of testimonials from happy parents and children
Research on Turnaround Anxiety Program

Recently, we received research data from a study done in Australia. The results of the random controlled trials (RCT) were VERY strong regarding the effectiveness of Turnaround. Here are some summary highlights:
The Turnaround anxiety program was effective in reducing the clinical severity rating of the primary diagnosis, decreasing the number of diagnoses held, improving overall level of functioning, reducing child and parent report of anxiety symptoms, and reducing the experience of anxiety.
For all measures, these improvements were either maintained or improved upon at 3-month follow-up.
The percentage of children free from their primary diagnosis is comparable to that found in traditional face-to-face CBT (cognitive behavior therapy) for child anxiety.
It is also important to comment on the ability of Turnaround to treat comorbid (more than one at the same time) anxiety diagnoses. Children rarely present with one anxiety diagnosis. The results from this research suggest that Turnaround is not only able to reduce primary anxiety diagnoses, but comorbid disorders as well, with almost half of the children being free from any diagnosis at 3-month follow-up.
How Turnaround Helps Parents
The program includes more than three hours of material to inform and support parents of anxious children.
Included in the Turnaround program is a Guide for Parents that is an hour and a half discussion with Dr. David and Dr. Chris about child anxiety and the struggles many parents face.
Many parents listen to this resource more than once to really take in all the information presented. They find it very helpful in parenting their anxious child.
Watch a 90 seconds interview with Dr McCarthy in a morning talk show explaining how the Turnaround program helps children overcome their fears
What happens if I don't like the program or does not work for me?
Purchasing Turnaround is essentially risk free! We offer 30, 60, and 90-day money back guarantees depending upon which version of the program you buy!
What is the best program format for me?
If you want immediate access to the program choose the digital download. If you want the kit (as shown in the picture), choose standard. Choose Premium to get both the instant download and the kit. For more program types visit our on-line shop.