---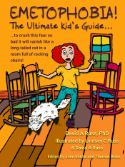 I am happy to announce the release of a kid's book on emetophobia. Like Turnaround it provides a thorough explanation of the problem with the steps needed to overcome it. I hope it will be entertaining, engaging and effective like Turnaround. (We also offer a supplement to Turnaround for emetophobia. It is designed for parents or professionals to use along with Turnaround.) This book, like Turnaround, is directed toward children. One of my absolutely favorite things is that my daughter, Lindsey, did most of the illustrations. I think you will enjoy them as much as I do.
An interactive book works a bit like a website. There are links, animations, videos, etc., along with the normal text. My target age group is probably 7 to 11. (It is hard to know that exactly, it just depends on the child.) To be honest, this book is really an experiment. If it is well received and I get feedback that it helps, then we might write books for other anxiety problems. My standard, of course, will be Turnaround which has been exceptionally effective. If this type of delivery is even close, I will be thrilled.
Life changing information won't help if it isn't delivered so it can be understood and used. That has been a crucial principle behind how we designed Turnaround. Technology has become a significant factor in how to reach kids. Whether good or bad, devices are part of the lives of most kids. With that in mind I started to investigate and learn how to create
an interactive book. An interactive book is somewhere between a regular book and an app. I picked the problem of emetophobia because of how frequently I treat this and that the resources for this phobia are still very limited.
At the beginning of the process I made the decision to use the Apple books platform. The book requires an Apple computer, iPad or iPhone. (An iPhone might be a bit too small of a screen, but it will still work.) It won't play on other devices. I know that will limit who can use the book. There were a few reasons I made this decision. The learning curve on the Apple software was more obtainable for me and Apple devices have the largest market share. I wanted to get the content and format out as soon as I could, to as many people as possible, so I could determine if this is an effective way to deliver help. If the book is as useful as I hope, then I will adapt it for use on other platforms. One thing I love about the interactive book format is that it is relatively easy to make changes as I get feedback. (Hint: if you and your child use the book please let me know what you like, don't like, what works, what doesn't.)
At this point, the book is not available directly on our website. It can only be purchased through Apple Books. Here is a link that will take you to where you can purchase and download it. Along with the book there is an adult companion book that goes with it.