Separation anxiety can affect a child at any age. This anxiety occurs when a child becomes distressed about separation from his parents or caregivers. It can be seen in infants when a parent leaves the room, in young children when they are dropped off at school or daycare, or even in teenagers through separation at school, a trip, or a long weekend. The first step is to recognize that your child is experiencing separation anxiety. Try to determine which situations are the most stressful for your child. At that point, you can begin to make changes that will help ease your child's fears.
Separation Anxiety During Infancy
Separation anxiety can begin as soon as an infant becomes aware of object permanence and realizes his parents can leave him. One way to help ease an infant's anxiety is to expose the child to other family members and caregivers early in his infancy. This will make it easier for the child when he is left with other adults. Though it may be tempting to sneak off to avoid tough goodbyes, this can cause distrust and confusion for a child. Instead of leaving unexpectedly, work with the caregiver on a plan to distract the child during and after your goodbye. This can help ease the stress of the situation.
Peak Separation Anxiety
Many children experience a peak in separation anxiety when they are toddlers. At this stage, they realize that a parent will be returning and may act out to try and avoid the separation altogether. Rituals and consistency can go a long way in helping to ease a toddler's separation anxiety. A short, fun goodbye ritual can provide a sense of security for a child. Try to avoid long goodbyes since these will extend the anxiety and may even amplify it. Similar to infancy, it can be helpful to provide a distraction during a goodbye. Providing a toddler with a small task, such as closing the door or waving goodbye out of a window can help ease anxiety at the time of the separation. It can also be helpful to provide a specific return time to your child and stick to it. This will help establish trust between you and your child and make him more confident in your return.
Separation Anxiety During The School Year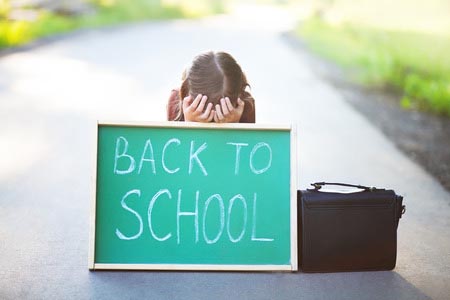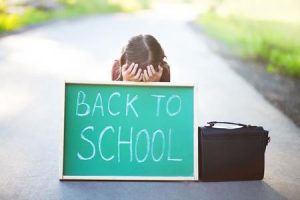 The start of school can also cause separation anxiety in older children. Preparation can be very helpful in easing your child's anxiety. If possible, bring your child to the classroom to meet the teacher prior to the first day of school. This will provide a more familiar environment for the child during the day of the separation. Another preparation method is to leave the child with caregivers or family members for extended periods of time in the weeks leading up to the start of the school year. This will get the child used to the extended separation that he will experience at school. Another helpful step is getting a child into a routine prior to the first day of classes. This can help develop a sense of security for the child. It can also be helpful to go through these same preparations before a child returns to school after each break and at the end of summer vacation.
Separation Anxiety for Teenagers
The beginning of a school year can cause similar anxiety for teenagers. Whether your child is a preschooler or just starting high school, having an open and understanding conversation with your child can help ease his anxiety. Avoid using phrasing that diminish your child's anxiety, by making it seem like the child is overreacting. Instead talk to your child about how you will work through the anxiety together.
Read more about the differences between Separation Anxiety in Children vs Teenagers


Extra Support for Your Child's Separation Anxiety
These tips can help ease your child's separation anxiety, but in some instances extra support can make a big difference for your child. Take our Anxiety Test to see if your child needs professional assistance.