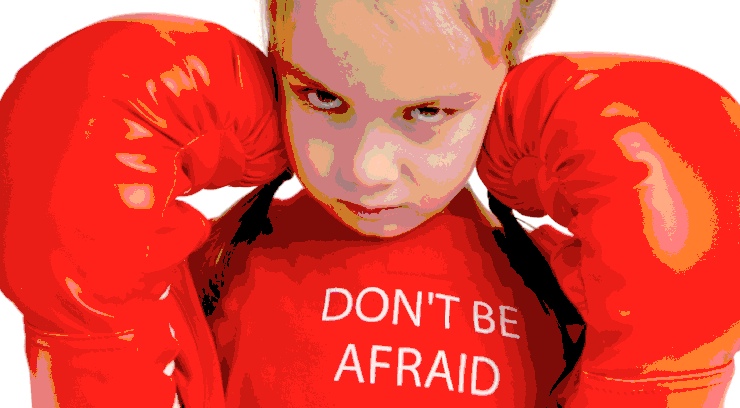 Without question, one of the hardest things to do when you are anxious is to voluntarily face your fear. It is the last thing in the world you want to do. It is really hard to help your child face their fear. Everything in them wants to do just the opposite. Therapists spend a lot of time in treatment trying to persuade clients to face their fears. As a parent, this is a huge issue. How many hours have we all spent trying to get our kids to not be afraid and do the things they need to do? Here are few things that may help:
Break It Into Steps
Can you break it down into steps? If you are trying to get you child to school and they are melting downor leaving class then drive them to the campus and sit in the parking lot. Start with that. Next have them go into the building. Maybe they can sit in the counselors office. Keep moving forward. If you run into a roadblock, break it down into a smaller step. Don't worry so much about what they CAN'T do, rather focus on what they CAN do. Keep doing the same step until it gets easier then move to the next. It may take some time arranging with the school or where ever there is the problem. One of my young clients was afraid of the doctor so I got some scrubs and we put them on in my office. Find things like what they fear and start with that. It may take a while, just be patient and persist!
Give Some Control
Give them some control. It is better to focus on what someone is willing to do rather than what they won't do. Start with that. Exposure works better when it is voluntary. However, don't give the option to NOT do it, just what they can do for now. For example, do you want to focus on the issue now for 15 minutes or after dinner for 25 minutes? Find something they will agree to. One young man was socially anxious. He would flip out about going to church. His parents mapped out what would probably happen and let him pick who he would greet with eye contact. Then they built on that. He had some control but he had to continue to greet people and face his fear.
Remove the Option
Remove the option to not do it. If you child is afraid of the dentist then they shouldn't have the option to not go. They may have the option to go with you and be in the room while you have an exam. They have to do something. If they think there is an option to NOT do something they will make that their life's goal. It is easy just for the sake of peace to give in. Don't be persuaded by that. If you give in one day, then work on it the next day. Even if there is a setback one day that doesn't change the overall process.
Don't Freak Out
Don't freak out when your child gets anxious. A common question we get is whether or not the Turnaround program could give a child more things to fear. The answer is maybe. When you start facing anxiety it gets worse most of the time. I tell people to expect this. You have to keep going and not back away from it. When you have a moment of peace the last thing you want to to stir it up. This is the wrong way to think about it. You are obeying the anxiety! It is hard to see your child in a panic, really hard. Don't you panic! Anxiety disorders rarely end without a fight. It is hard work. You may lose it and get so angry. There may be shouting and door slamming. I know you may be at your wit's end. Your heart may be breaking but you must find the strength to keep going. If you are calm, it will help them when they are facing fear.
Encourage
Praise, praise, praise. Encourage, encourage, encourage. They may have to borrow hope from you. We would say to our daughter,  "It is just anxiety." "You may make headway today or another day but you WILL make headway." "This is a stage of life to work through, not your whole life." "You will grow up and have a fine life." "Maybe you will have anxiety at times but that won't keep you from a good life." "You will get educated." "It takes as long as it takes." "We will figure this out." Give your child a hopeful future and the solid commitment to do what has to be done. Each step give real encouragement. Be honest and don't ignore the present hardship by minimizing. There is a big difference between saying, "It isn't that bad," and "It feels really bad right now but it will get better." You may not feel hopeful at moments but step back and get your bearings. Maybe you have battled anxiety yourself. Speak out of your own experience. Maybe you have not done as well as you would like coping. Use this hard time to say let's both work on it.